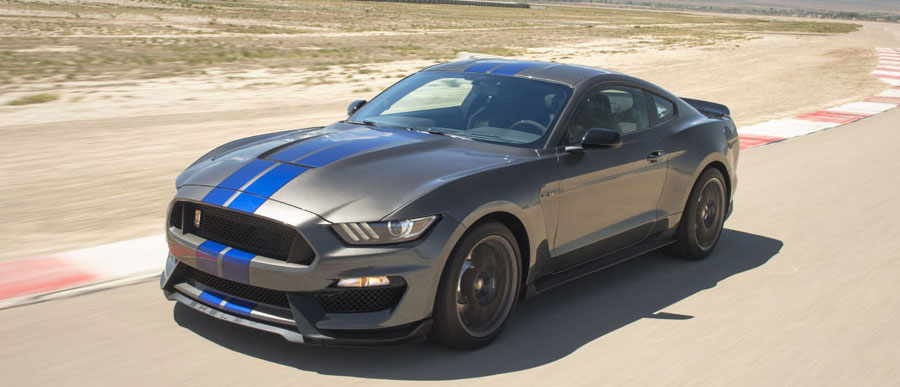 The 2016 Ford Mustang is an iconic American muscle car that's big on guts, glory, and modern tech features. Inside, the cockpit is driver-centric and strikingly spacious. Outside, the Mustang has never looked sharper. Under the hood, this thrilling muscle car brings the heat. You can choose from a wide range of engine options for the performance you crave, including a cutting-edge, 310-horsepower four-cylinder.
2016 Ford Mustang
There are two things the 2016 Ford Mustang offers in abundance: speed and style. When it comes to power, the Mustang also gives you plenty of options. Choose between three strong, fuel-efficient engines for the muscle car performance you crave. With the 3.7-liter V6 engine, you'll surge ahead with 300 horsepower and 280 pound-feet of torque. If you're in the market for additional speed and fuel economy, check out the Mustang's 2.3-liter EcoBoost four-cylinder engine maxes out at 310 horses and 320 pound-feet of torque. It also earns the line's best EPA ratings, offering up to 32 mpg on the highway. For Mustang traditionalists, there's plenty of V8 power. The 5.0-liter V8 engine produces 435 horses and 400 pound-feet of torque for your tire-burning pleasure.
Two transmissions are available: a six-speed manual and six-speed automatic. With the manual, driving enthusiasts enjoy impressive control over performance. The automatic transmission means a smooth, carefree ride. You can also use its paddle shifters to downshift at will, giving you quick access to power when you merge onto highways or pass slower vehicles. The 2016 Mustang also features an independent rear suspension, which contributes to its smooth, precise ride. Selectable drive modes - including sport, track, snow/wet, and normal - alter performance settings to create your best possible on-road experience.
Safety is a major priority for the 2016 Ford Mustang. In government crash tests, it earned a perfect five-star rating. The Insurance Institute for Highway Safety gave the Mustang its top score of "Good." With the manual transmission, hill-start assist keeps the Mustang from rolling backward at stops. With vigilance-enhancing technology - including forward collision alert - the Mustang keeps you up-to-date on what's going on around you.
Inside, the Ford Mustang is at its best. The cabin combines vintage styling cues with modern features like the central touchscreen, and its high-quality materials give you a taste of luxury. Get nice and comfortable behind the wheel with the Mustang's telescoping steering wheel and excellent seating adjustments. With the Recaro front sport seats, you'll feel snug and supported during high-speed drives. Whether you prefer the coupe or convertible, you can always count on excellent head- and legroom all around.

Mustang GT Premium
When it comes to interior luxury and world-class speed, there's no better option than the Mustang GT Premium. Inside, ambient interior lighting sets a stylish tone. Upscale items - like leather upholstery and heated and ventilated front seats - take passenger comfort to a new level. Under the hood, the V8 engine churns out plenty of power for true muscle-car performance.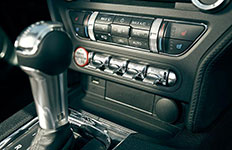 Selectable Drive Modes
Adjust performance settings to enhance your ride on the track or in the snow.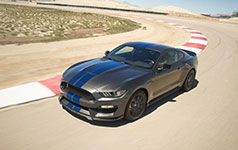 On-Road Precision
Front and rear suspensions deliver the Mustang's best performance yet.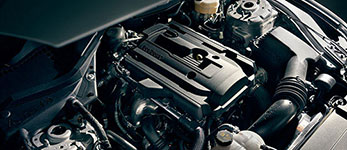 Balanced Power
You're never short on speed or fuel economy.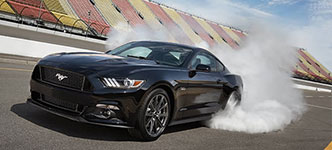 Mustang GT
Tire-burning V8 power has never felt this good.
Conclusion
The 2016 Ford Mustang is an excellent choice for drivers who crave pure speed and iconic style. On the road, the Mustang has never been smoother or more precise. Its engine options strike an excellent balance between fuel economy and overall power. Inside, the Mustang is spacious and supportive. The cabin is stocked with all the latest in tech and infotainment gear. Safety is also high on the Mustang's list of priorities; its world-class crash-test scores will put your mind at ease. Feel the power of the Mustang on a test drive today!