When you require ready power and heavy-duty towing capabilities, the 2017 Ford F-250 Super Duty is at your service. Choose between gas and diesel power for the hauling utility that meets your unique needs - whether that's a bed full of lumber or weekend camping supplies. With various cabin and bed sizes, you can tailor your F-250 for greater passenger or cargo space. In addition to tackling serious workloads, the F-250 offers a surprising amount of interior luxury.
2017 Ford F-250 Super Duty
At long last, the luxurious upgrades that have taken over the full-size truck segment have made their way to heavy-duty models like the 2017 Ford F-250. The F-250 has been newly redesigned this year, effectively blowing the competition out of the water. The F-250's new equipment lineup starts with the upscale multi-contour seats, which treat you to ventilation on a hot day and even a built-in massage function for a little relief after a long day on the job. All three cabins - regular, extended SuperCab, and crew - are now bigger, providing passengers with extra space to get comfy for the long haul. You can even deck your F-250 out in lavish leather upholstery, blending rugged capabilities with luxury-SUV-like comfort.
The 2017 Ford F-250 also stocks a range of new convenience items that are specially designed to maximize your on-the-job productivity. To start, the unique Ultimate Trailer Tow Camera System includes seven cameras that offer a range of helpful features. The grille-mounted unit provides a 180-degree look at your surroundings, even peering around corners when your sight lines are limited. Four cameras work together to provide a top-down look at your F-250, making it easy to guide this sizeable truck around tight spaces. Two rearview cameras make hooking up either a conventional or fifth-wheel trailer a simple task. Another exclusive feature, the Trailer Reverse Guidance System, helps you effectively guide trailers into the desired space. The system includes a jackknife warning, and even displays directions on the F-250's central touchscreen to help you keep your trailer moving in a straight line.
Under the hood, the 2017 Ford F-250 generates the heavy-duty torque that's necessary to move colossal weight. With the gasoline-powered, 6.2-liter V8 engine, you'll see upgraded output of 385 horsepower and 430 pound-feet of torque. The famous 6.7-liter turbodisel V8 engine has also been revised for 2017. It now churns out 440 horses and an outstanding 925 pound-feet of torque. Use the turbodiesel engine to tow maximum weight - up to 18,600 pounds with a fifth-wheel setup. With that kind of power, you can tow substantial equipment, such as tractors, to remote worksites. Rear-wheel-drive models with this engine can haul up to 4,200 pounds with impressive effortlessness. Load the bed up with anything from work supplies - including two-by-fours or copper pipes - to Sunday Funday gear, like kayaks and firewood. Add four-wheel drive to take on off-road trails and remote worksites like a pro.

F-250 Super Duty Platinum
For an uptown take on the heavy-duty work truck, check out the 2017 Ford F-250 Platinum. The Platinum's LED headlights and foglights cut through the cover of night and heavy fog for upgraded visibility and modern exterior style. Inside, the Platinum's multi-contour front seats with massage capabilities are exactly what you need at the end of a long workday. In addition, this model comes loaded the blind-spot monitoring system, which lets you know when you can safely switch lanes and even takes a trailer into account.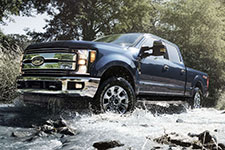 Off-Road Prowess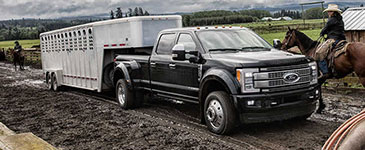 Best-In-Class Conventional Towing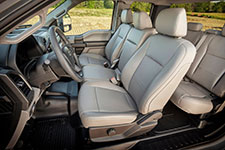 Spacious Cabin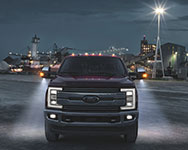 Halogen Lighting
Conclusion
The 2017 F-250 is a heavy-duty trucks, both in capacity and in features. Loaded competitive new features, the newly redesigned 2017 Ford F-250 is the tough truck for drivers who want to make the most of their daily ride. In addition to its rugged towing and hauling capabilities, new aluminum body panels mean enhanced fuel economy, handling, and overall performance. Innovative convenience features, such as the Ultimate Trailer Tow Camera System, help you get through the workday at maximum capacity with no time spent navigating annoyances. When it's time to make a break for off-road territory, the 2017 Ford F-250 truly shines, tackling boulder-heavy landscapes and muddy surfaces with serious skill.