Bob Swope Ford Has You Covered with Professional Auto Service & Repair in Elizabethtown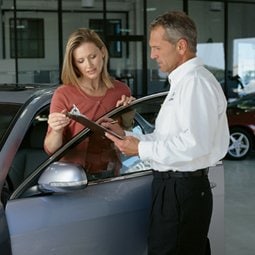 When it comes time for an oil change, there's no need to search Radcliff, Campbellsville, Fort Knox and Leitchfield up and down - Bob Swope Ford is standing by, ready to service your Ford Escape, F-150, Fusion, Focus, or F-250 efficiently and reliably. Our team of auto service and repair experts is highly versed in everything automotive, especially when it comes to Ford models. That means you can count on your car getting the TLC it needs in order to give you more out of each mile.
As for the specific services we provide: if you need something done under the hood of your car, we're the ones to trust. That means whether you need a simple oil change or tire rotation or something more complex like a major repair, we know precisely what to do, how long it will take and, perhaps most importantly, how much it will cost.
To schedule a service appointment with Bob Swope Ford, simply fill out our contact form online. We'll quickly confirm the details of your appointment, such as time and date as well as what your Ford needs. All you need to do: sit back, relax and be ready for your car to drive like it did the first time you took a seat behind the wheel.