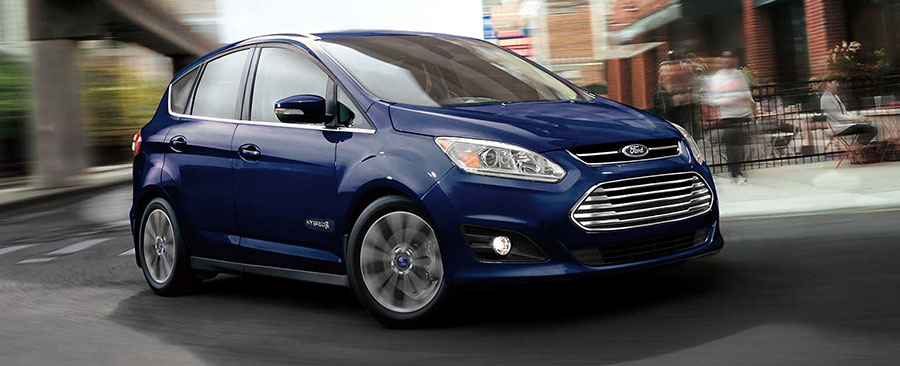 The 2017 Ford C-Max stands apart from competitors with its athletic ride and youthful modern style, proving that choosing a hybrid doesn't have to be boring. Part wagon, part hatchback, the C-Max is in a class of its own when it comes to sporty good looks. Inside, its tall body style provides an excellent view of the road ahead. You'll also find generous head- and legroom throughout, so your favorite passengers are always at ease. The C-Max's smooth, responsive ride is a real treat - it even combines sporty performance with world-class fuel economy.
2017 Ford C-Max
The 2017 Ford C-Max is appealing on many levels, beginning with its roomy, quiet cabin. From behind the wheel, the C-Max feels incredibly comfortable and supportive, so lengthy commutes breeze by. The C-Max also provides an elevated view of the road - much like a crossover - to boost driver confidence and general visibility. In back, you'll discover an abundance of head and leg room, which means that, on top of everything, this hatchback hybrid is family-friendly. As you cruise at highway speeds, the C-Max cabin remains hushed, making it a great choice for your next road trip.
When you choose the C-Max's new Sync 3 infotainment system, you won't be disappointed. Its central touchscreen is crisp and clear, and its new menu system was designed with ease-of-use in mind. Even if you've never dealt with infotainment technology, you'll figure out Sync 3 in no time. It's your central hub for smartphone app integration options, including Pandora Internet radio and hands-free calling capabilities. The voice-controlled navigation system is equally accessible, guiding you through unfamiliar streets with ease. Should any of your favorite passengers want to do a little homework on the go, the 110-volt, household-style power outlet keeps laptops charged and ready for action.
The 2017 Ford C-Max hybrid powertrain is a big part of this model's incredible appeal. For starters, it earns 42 city/37 highway mpg and supplies huge savings at the pump. The continuously variable transmission adds to the C-Max's fuel-efficient ride, but it also offers quick responses to driver input. This means sporty handling and - when you add the C-Max's sharp steering into the mix - an entertaining ride in any setting.
This innovative hybrid also lends itself to high-tech passenger protection. The Insurance Institute for Highway Safety gave the C-Max Hybrid its top score of "Good" in a barrage of tests. Clever tech features, like the rearview camera, help you spot danger in advance. Ford's MyKey technology is a parent's best friend, setting speed and stereo volume limitations for teenage drivers. The 911 Assist feature uses your smartphone to automatically contact emergency services after a collision.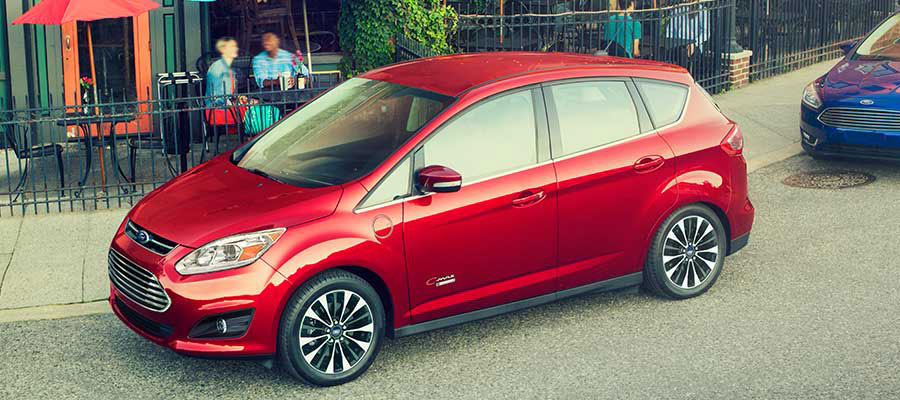 C-Max Energi
For an impressive all-electric range, check out the 2017 Ford C-Max Energi. This plug-in hybrid travels up to 19 miles on battery power alone, getting you to your local grocery store and back without a drop of gas. After that, it switches to hybrid power, earning up an excellent 42 city/38 highway mpg. When you blend the all-electric driving with hybrid power, you'll enjoy the equivalent of 99 mpg combined - that's quite a bit of savings at the pump.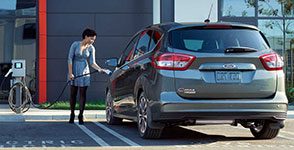 Plug It In…Or Don't
At the end of the all-electric range, the 2017 Ford C-Max Energi switches to hybrid power.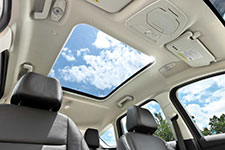 Panoramic Vista Roof
This expansive view of the sky gives the C-Max cabin a light, open feel.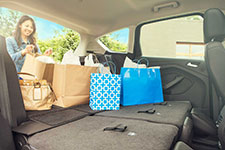 Fold-Flat Second Row
The rear seats tuck neatly into the floor, creating extra cargo space whenever necessary.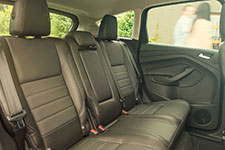 Best-in-Class Passenger Volume
In the C-Max, up to five passengers can kick it with elbowroom to spare.
Conclusion
When it comes to the perfect blend of thriftiness and athleticism, there's no better pick than the 2017 Ford C-Max. This sporty hatchback wagon is all about on-road fun, delivering responsive handling and excellent fuel economy to boot. Inside, the C-Max feels roomy, but its compact nature is a boon during parallel parking maneuvers. The cabin's tech innovations, like the household-style power outlet, come in handy when you need to do a little work on the go. High-tech gear, like the 911 Assist feature, provides a generous safety net. The C-Max is an outstanding option for those looking for a good combination of comfort, power, and budget-loving hybrid features.