Skip the three-row SUV - the 2017 Ford Edge has all the family-friendly space you need, along with the crossover-style utility necessary to manage everything from a long commute to a weekend adventure. The Edge might be a mid-size crossover, but it's got an impressively roomy cabin and cargo hold - perfect for a family of five. As you cruise around, you can use the infotainment system to make as many hands-free texts as your heart desires.
2017 Ford Edge
Roomy accommodations and modern creature comforts are just a small part of what makes the 2017 Ford Edge so attractive. The second row supplies enough space for three passengers to maintain a comfortable ride, with generous legroom for adult-sized passengers and plenty of elbowroom for texting. The roomy cargo hold is perfect for weekend warriors, with 39.2 cubic feet for your weekend luggage, his-and-hers golf clubs, and assorted picnic gear. You can head to garage sales knowing that, if necessary, you can flip down the rear seats to create 73.4 cubic feet of cargo space to accommodate furniture finds.
Tech junkies can't help but love the Edge's Sync 3 infotainment system, which includes responsive voice commands that do everything from check your voicemail to reply to incoming text messages. The central touchscreen's sharp graphics and large, responsive buttons let you interact with the system without getting distracted from the traffic up ahead. On long trips, the Edge doesn't let your devices languish - simply plug them into the cabin's USB port to keep them charged and ready for action.
When you combat rush-hour traffic on a daily basis, the last thing you want to worry about is safety. In that regard, the Edge has you covered. In government crash tests, both the front-wheel-drive and all-wheel drive Edge models earned a perfect five-star rating for overall protection. The Insurance Institute for Highway Safety gave the Edge its top score of "Good" in a variety of crash tests. In addition to impressive crash-test performance, the Edge is flush with high-tech safety gear. If an accident should occur, the Edge protects you with a number of important features. The Ford Sync system works with your smartphone, automatically dialing 911 when the airbags deploy. The inflatable outboard rear seat belts offer extra protection, especially for younger passengers, because they help redistribute crash impact to reduce head, neck, and chest injuries.
The Edge is unique in that it feels roomier than most mid-size crossovers, but, unlike traditional truck-based SUVs, it also supplies impressive maneuverability. With well-weighted steering and responsive handling, the Edge can handle cramped city grids and winding mountain roads with equal skill.

Edge Titanium
Combine all-out luxury with an attractive price tag and you've got the 2017 Ford Edge Titanium. In addition to the usual crossover resources - like all-wheel drive to curb danger on city roads - the Titanium introduces a whole new level of luxury. With the soft glow from the cabin's ambient interior lighting, it's easy to find any escaped toys or juice bottles. The Titanium's front sport seats keep you snug and supported as you put the turbocharged engine to good use.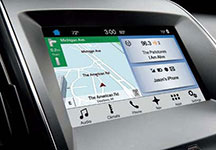 Sync 3
Voice-activation and a user-friendly infotainment interface keep you connected on the go.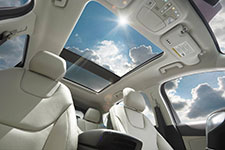 Panoramic Vista Roof
Get a little sun on your way to work.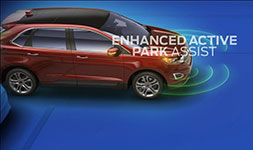 Active Park Assist
When it comes to parallel spaces, the Edge does the heavy lifting.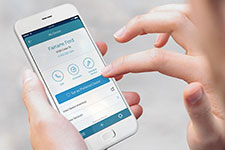 FordPass
Schedule maintenance visits or request roadside assistance via smartphone app.
Conclusion
The 2017 Ford Edge's appeal is wide-ranging. Families love its roomy cabin and legit three-across rear seating, and the Edge is designed to provide a swift, sporty ride - the kind that gets you through crowded city streets and narrow country lanes equally well.