The Ford Explorer is a traditional full-size SUV and an excellent source of passenger space, tech features, and rugged power. Inside, you'll find three rows of family-friendly seating with wide, plush cushions. The used Ford Explorer is also big on safety, enhancing peace of mind throughout your travels. Contemporary models are home to a wide range of tech features, so you'll always enjoy a strong connection to the outside world. To learn more about these models, check out our used Ford Explorer buying guide.
Used Ford Explorer

When you're looking for a used Ford Explorer with all the right moves, the fifth generation really delivers. With four well-equipped trim models to choose from, you're certain to find exactly what you want from this rugged, family-friendly SUV. Inside, all three rows of seating are now adult-friendly, with head- and legroom to spare. This generation, being the most recent, also provides the most impressive infotainment features. The MyFord Touch infotainment system links to your smartphone, offering excellent integration, with features like hands-free texting and calling. You can also use the Sync voice-control system to access your music library without looking away from traffic.
The latest Ford Explorer solidifies the brand's reputation for power and performance. Choose from a variety of engines - all of which provide ample power to get up to speed in a snap. From behind the wheel, you'll appreciate the Explorer's controlled handling and responsive steering.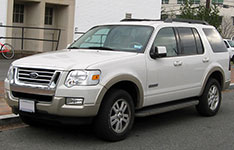 Fourth-generation buyers will find a lot to like in the used Ford Explorer. Once again, these models combine interior space and luxury with a high-powered performance. New features included enhanced safety systems for increased passenger protection. The Explorer also came with a stronger frame and engine options. To make the most out of your ride, look for the V8 engine, which generates 292 horsepower. Toward the end of this generation, Ford introduced a number of handy tech features to keep you connected on the go. Beginning in 2008, the Explorer offered Sync technology, which provided voice controls and quick access to smartphone features. The following year, the Explorer provided an upgraded navigation system to make it easier to stay on the right track.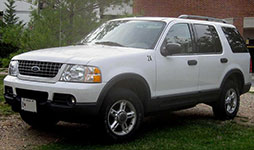 An SUV for the new millennium, the third-generation Ford Explorer treated passengers to new technology and improved ride and handling dynamics. All three rows were comfortable and spacious, once again making the used Ford Explorer a great pick for drivers who love company.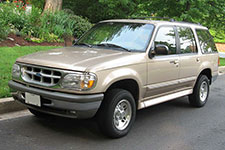 Inside, the second-generation Explorer was spacious and comfortable - passengers could spread out in style. Test-drive three engines from this generation, the strongest of which was a 210-horsepower V8.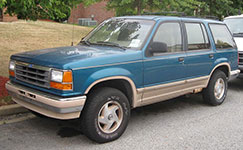 When the original Ford Explorer replaced the Bronco II in 1991, it made an excellent pick for big families and socialites. Because no one had ever really seen anything quite like it, the Explorer effectively defined the full-size SUV market. Buyers could now combine three rows of family-friendly space with rugged capabilities.