The Ford Fusion is a mid-size sedan that offers premium passenger space, savvy tech options, and solid driving dynamics. Thanks in part to its fuel-efficient power and sporty handling, the Fusion is a major player in a fiercely competitive segment. Inside, the Fusion cabin is handsome and accommodating. Newer models are especially attractive, delivering a wide range of smartphone integration options and driver safety aids. Take the Fusion out for a test drive today!
Used Ford Fusion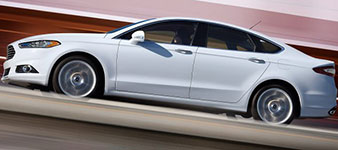 The modern used Ford Fusion is a mid-size, four-door sedan that is among the best on the road. This Ford Fusion treats drivers to a smooth, responsive ride. Shop around and choose from four engine options for the performance you require. We like the turbocharged, 2.0-liter four-cylinder, which amplifies your ride with 240 horsepower. Still, all engine options are big on fuel economy and offer quick response time. The six-speed automatic transmission provides paddle shifters to help you get up to speed in a snap.
The recently redesigned Ford Fusion is home to modern features, like heated and ventilated seats, that deliver all the comforts of home. No matter where you choose to sit, you can expect ample passenger space. High-tech features, like the touchscreen-based infotainment system, keep you connected. It's easy to make hands-free calls and texts without ever looking away from traffic. You can also use the system to stream your favorite Pandora radio stations. Conveniences like keyless entry and ignition save time in the long run. Advanced safety gear enhances driver vigilance; systems like forward collision alert scan your surroundings and alert you to danger. The rearview camera comes in handy when backing out of tight spaces. You can also pair your smartphone to the Ford Sync system and automatically dial 911 when the airbags deploy.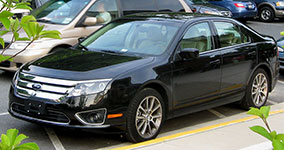 After a redesign, the second-generation Ford Fusion appeared with increased power and fresh style. It also offered a plethora of new features - including a manual-shift option for the six-speed automatic transmission, giving drivers the power to downshift at will. Blind-spot mirrors provided increased safety on the highway.
These models continued the Fusion's tradition of smooth, fuel-efficient power. The base 2.5-liter four-cylinder engine offered 175 horsepower. If you require additional output, look for the 3.0-liter V6, which provided 240 horses, or the Sport model, which used a unique 3.5-liter V6 to generate 263 horses.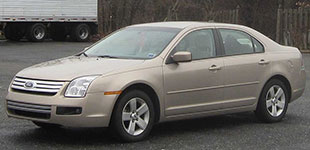 When the first-generation Fusion made its debut, shoppers could choose from three well-equipped trim models. The cabin sported roomy, supportive seating and generous space for all. Tech features, like the Sync system, offered impressive smartphone integration options.
Under the hood, a 2.3-liter four-cylinder engine produced ample power - 160 horses - and fuel-saving performance. This engine combined forces with a five-speed automatic transmission for a smooth, refined ride. Used buyers can also look for the 3.0-liter V6 engine, which enhanced performance with additional thrust and 221 horsepower.